Registration of Ingredient Name of Buah Merah for Cosmetics
M&K Laboratories Inc, Japan has successfully registered the ingredient name of Buah Merah into International Nomenclature of Cosmetic Ingredient (INCI).
This name has been also accepted by  Cosmetic Toiletry and Fragrance Association (CTFA) and Japan Cosmetic Industry Association (JCIA).
From these registration, Buah Merah oil can be used as "Skin Conditioning-Emollient".
A part of our research results will be presented at Japan Pharmacy Conference in Kobe in October 22, 2011.
http://www.tropicalmedicine.jp/buahmerahyakugakkai.htm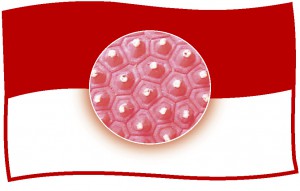 Flag of symbol of Indonesia-Japan cooperation in Buah Merah