Key Note Speak in International Conference of Indonesia Chemical Society,
at Jayapura, Papua, Indonesia
Efficacy of Rare and Valuable Red Fruit, Pandanus conoideus from Papua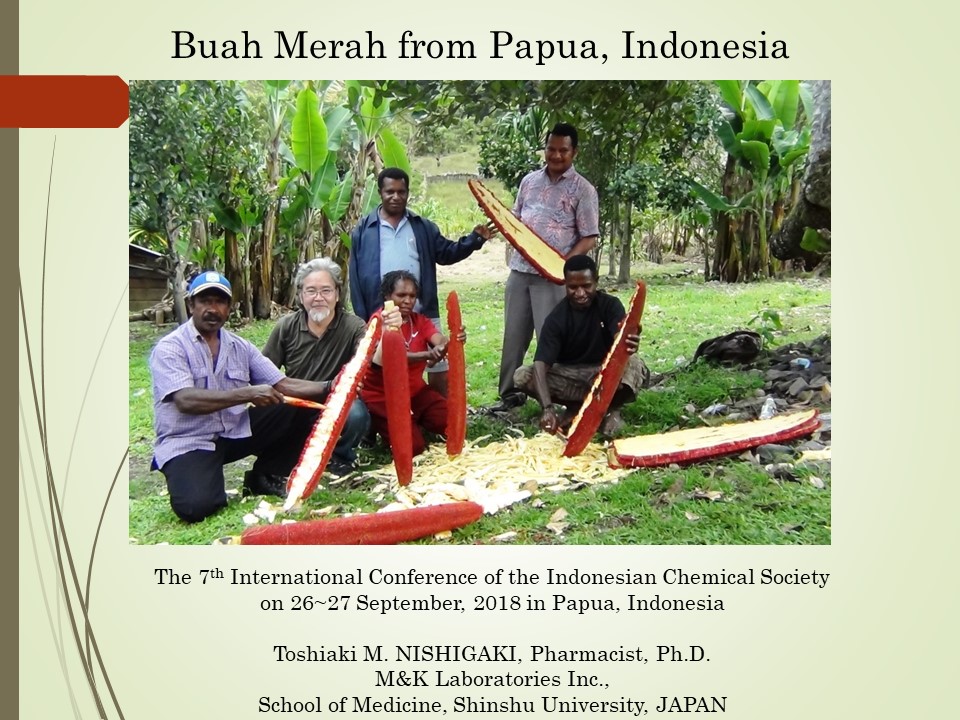 Ladies and Gentlemen, Selamat Pagi
Thank you so much for respective introduction about me.
I am Toshiaki Nishigaki from Japan.
First of all, I would like to express my appreciation to Dr. Yohanis Ngili, Chairman of ICICS 2018 for inviting me to unforgettable International Conference, held at my memorable place, Jayapura, Papua
I studied Pharmacy at Nagasaki University, but I am not Chemist. My major is Biochemistry.
While working at Pharmaceutical company, I was assigned to the fields of Toxicology, Pathology, Electron microscopy, Radioautography and Allergy.
Since I co-worked with Philippines FDA as JICA expert regarding natural medicinal plants, I have been interested in natural medicines rather than chemical drugs.
It was in August of 2005 when I first visited to Papua to explore carotenoid rich plants.
The carotenoids are in lack of ingredients in my another research material, Mengkudu.

At the first visit of Papua, I found out the fruit rich in carotenoids in Baliem valley..
That is Buah Merah.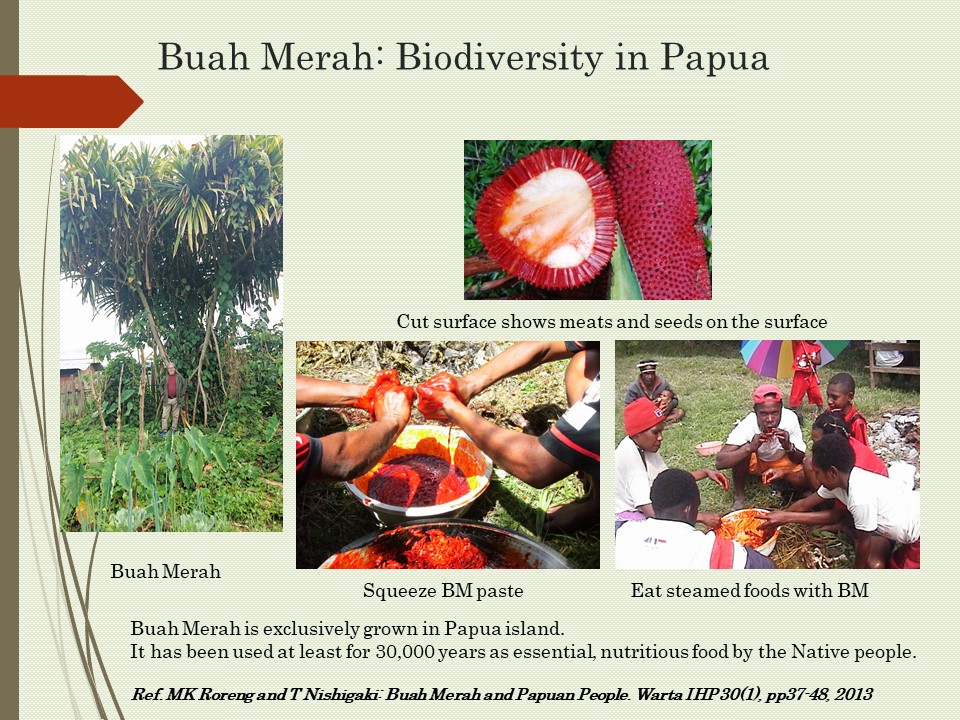 Today, I would like to address about Buah Merah based on my 13 years experiences on how to research and develop it as novel product.
Buah Merah is one of special examples in Biodiversity in the World.
Buah Merah is exclusively naturally grown at higher mountain areas in Papua.
My style in R/D for unknown materials is to go to site, watch with my naked eyes and taste with my tongue, and study from people on how to use.
 When I went to Goya Locale, kindly Dani people demonstrated how to cook and use Buah Merah in Bakar Batur.
Papuan people immigrated to Papua island from Africa about 60,000 years ago.
Approximately 30,000 years ago, people living at sea-shores evacuated to higher mountain areas to prevent them from Malaria.
And they found Buah Merah naturally grown.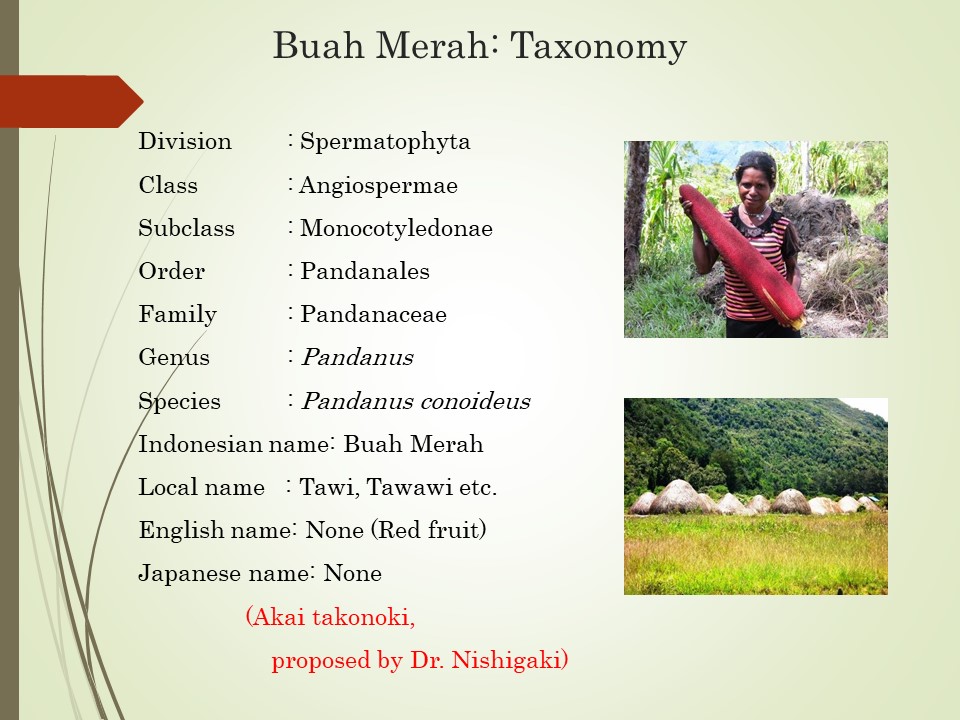 Taxonomy of Buah Merah is as shown in this slide.
Genus is Pandanus, species is Pandanus conoideus.
Dani tribe calls it Tawi or Tawawi.
No English name, but just Red Fruit.
No Japanese name.
Therefore, I gave the name of Akai Takonoki.
Akai means Merah or Red, Takonoki means Octopus.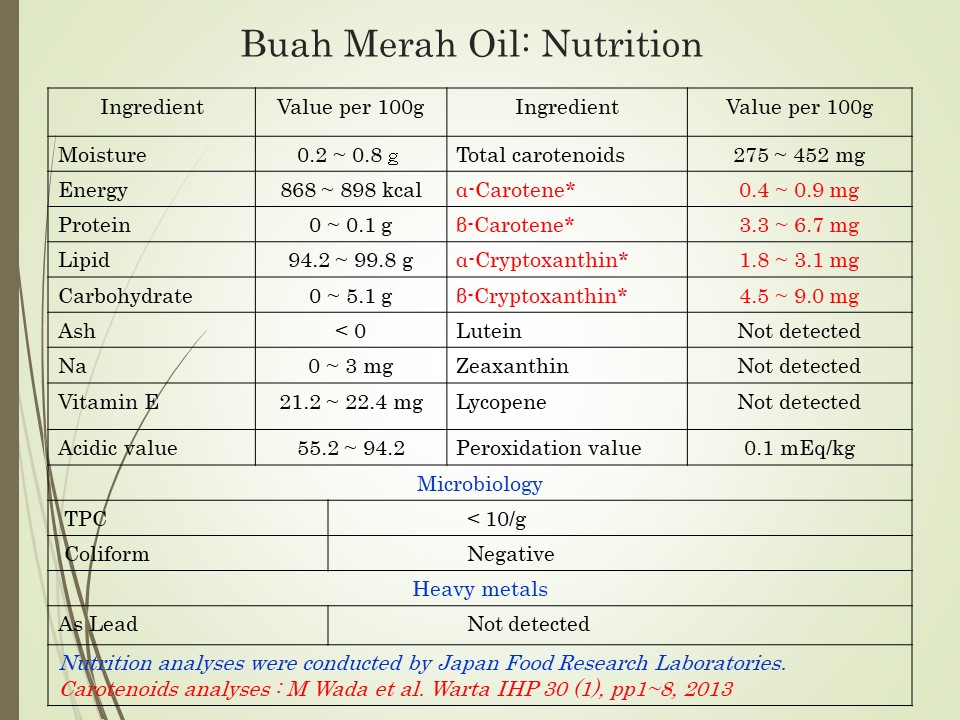 After coming back to Japan with excitement on Buah Merah, I built up Buah Merah Working team with Faculty of Pharmacy, Nagasaki University, chaired by my class mate, Prof. Dr. Nakashima.
During that time, Buah Merah was so much booming in Indonesia.
Many books were published.
But, there were no researchers to approach scientifically.
It was very happy and lucky for me.

Collected samples of Buah Merah oil and finished products were analyzed.
And, we found out 4 types of carotenoids, alfa- and beta-carotene, and alfa-and beta-cryptoxanthin.
We are the first group in the world to discover the presence of micronutrients, carotenoids, especially beta- and alfa-cryptoxanthin in Buah Merah oil.
From nutritional analyses, it was found Buah Merah oil is rich in lipids, more than 95%.
Proteins, carbohydrates, ash and Na contents are very few.
The other carotenoid-related compounds like Lutein, Zeaxanthin and Lycopene are not present. Acidic value is relatively high because of heat extraction.
Peroxidation value is quite low.
No micro-bacteria and heavy metals were detected.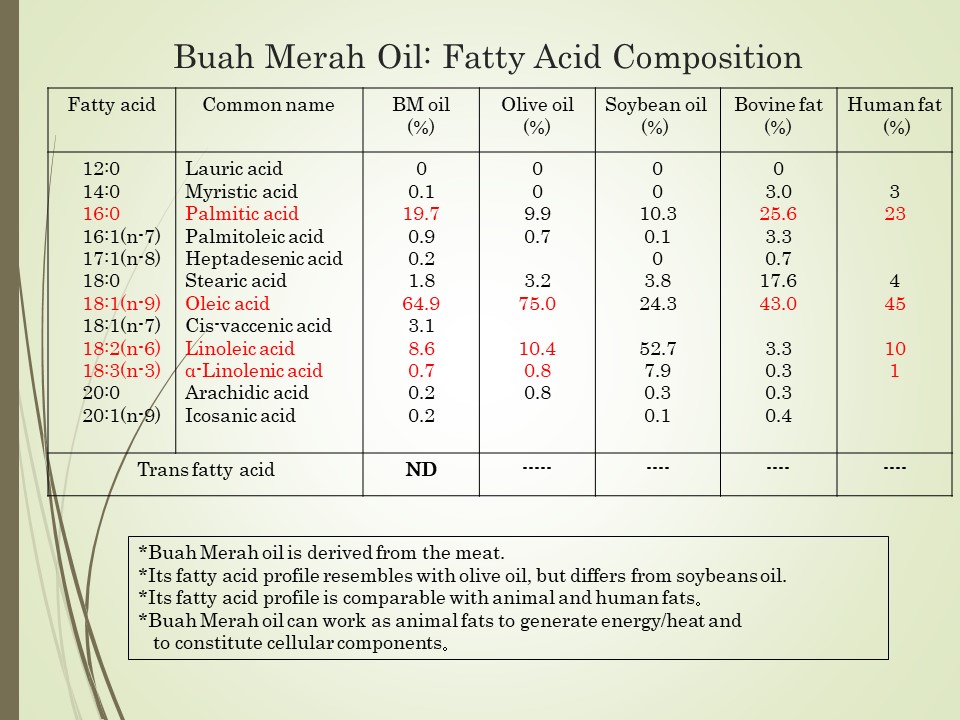 This slide shows fatty acid profiles of Buah Merah oil.
Main fatty acids of Buah Merah oil are Omega-9, oleic acid and palmitic acid.
Essential fatty acids, Omega-3 alfa-linolenic acid and Omega-6 linoleic acid are contained.
Constituent ratios of fatty acids are almost similar to those of human and bovine fats, and comparable with Olive oil.
But completely different from soybeans oil in fatty acid ratio.
I think that Buah Merah oil can work like animal fats to generate energy and heat and to constitute cellular components.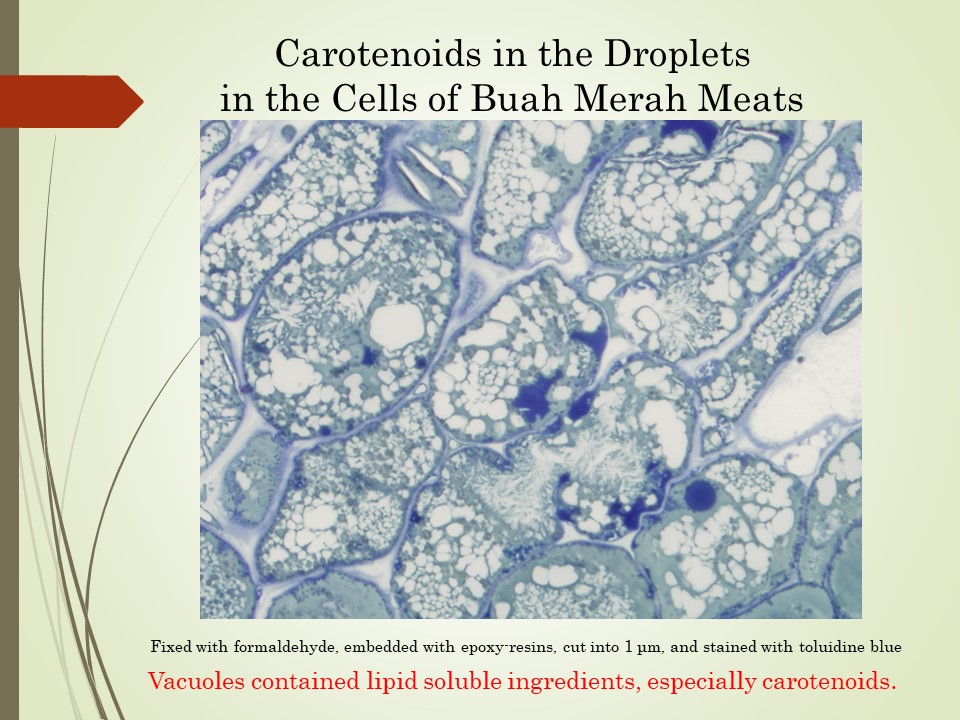 I am not chemist, but histopathologist.
Therefore, my curiosity was to know the cellular structures of Buah Merah meats.
You can see many transparent vacuoles in cells suggesting in containing lipid soluble compounds in these droplets.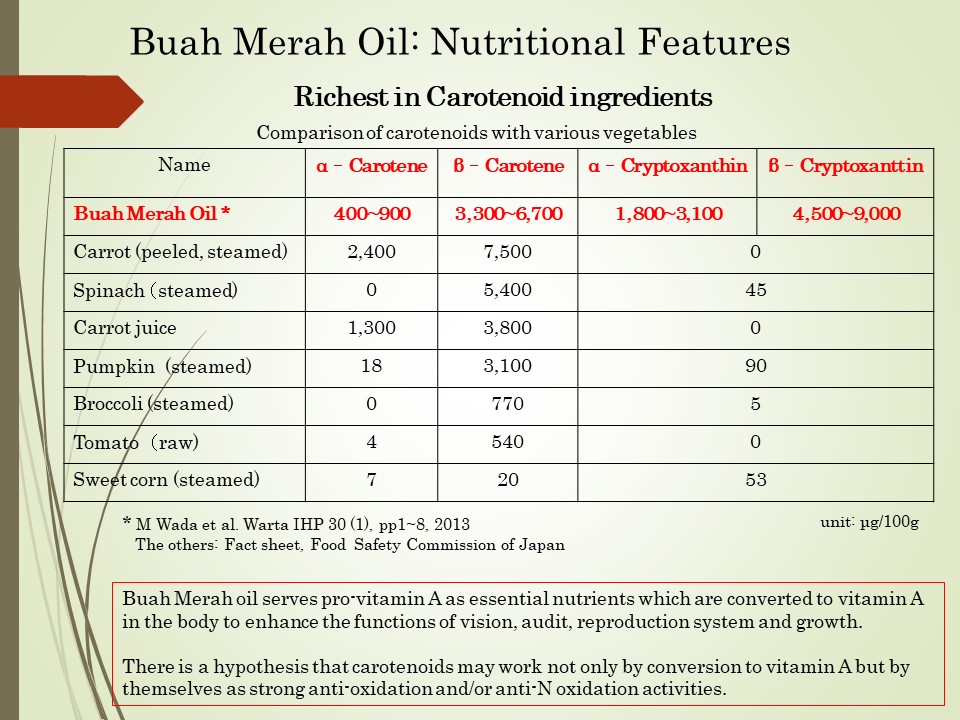 This slide shows comparison in carotenoids contents between Buah Merah oil and other common vegetables。
Carrot, spinach and pumpkin are good foods to complement alfa- and/or beta- carotene, but not good foods to supplement alfa- and beta-cryptoxanthins.
On the other hands, Buah Merah provides all the type of carotenoids,  including alfa- and beta-cryptoxanthins. Their contents are quite high.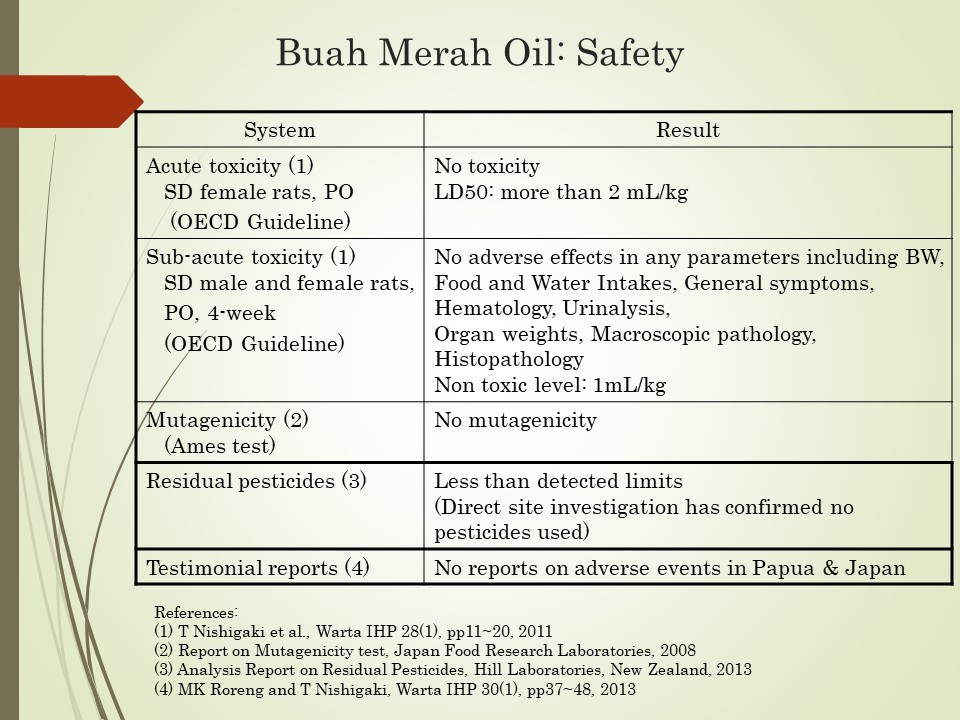 It is very important and necessary to assess safety for new product.
We conducted Acute and Sub-acute toxicity studies following International standards.
And then we disclosed no toxicities in Buah Merah oil in animal studies.
Buah Merah is a novel product.  
Novel products must be examined for mutagenicity associated with carcinogenicity.
Therefore, mutagenicity study, Ames test, was carried out.
The result was negative.
We also examined residual pesticides in Buah Merah oil and of course found negative.
So far, I know, there are no cases of adverse events in Papuan and Japanese people.
I am one of testimonial cases taking 2~5 mL of Buah Merah oil daily for 11 years.
But no side effects.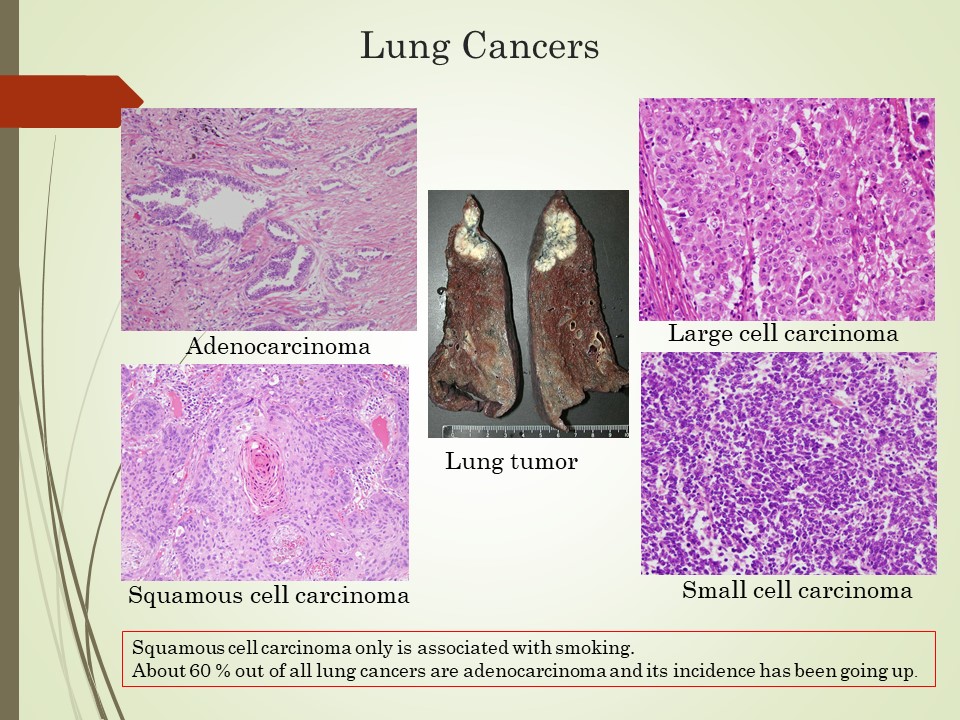 There are mainly 4 types of lung cancer.
They are Adenocarcinoma, Squamous cell carcinoma, Large cell carcinoma and Small cell carcinoma.
Smoking causes squamous cell carcinoma.
I have been smoking for a half of century, except 3 nights when I was isolated to the hospital due to malaria suspicion after coming back from Africa.
I do not want to be killed by lung cancer.
There are some possible causes of lung cancers, such as trans-fatty acids, additives, car exhaust gas, and so on.
However, I believe that enough amount of beta-cryptoxanthin consumption probably protects or inhibits lung cancers.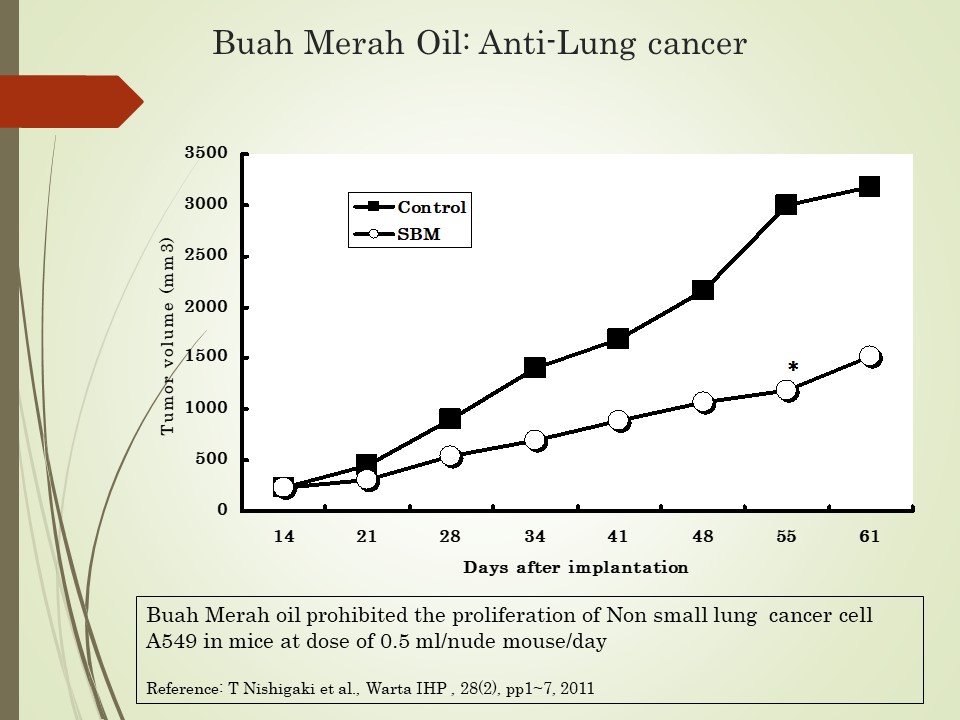 We examined efficacy of Buah Merah oil for lung cancer using human lung cancer cell line, A549.
This slide shows results of in vivo animal study.
In this study, we used nude-mice.
A549 cancer cells were subcutaneously inoculated.
Buah Mrah oil was orally given.
Cancer mass was measured.
This animal study clearly demonstrated the prohibition of proliferation of A549 cancer cells.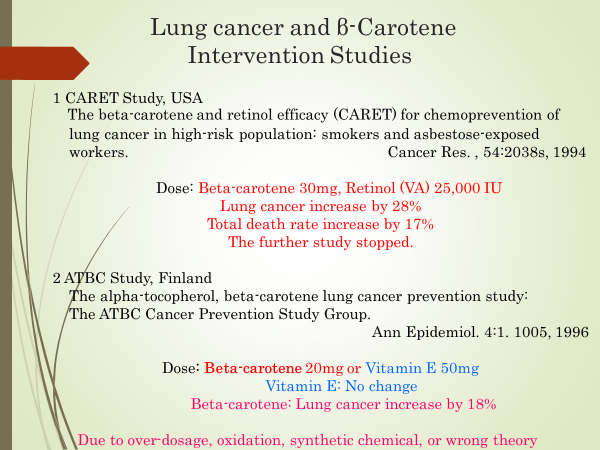 There are 2 famous and miserable Intervention studies performed at the late of 20 centuries using higher dose of synthetic beta-carotene.
Both CARET and ATBC studies revealed that beta-carotene increased the prevalence and fatality of lung cancers.
Now it has been considered that excess Beta-carotene causes lung cancer.
What is active ingredient for prevention of lung cancers?
This was world-wide question.
The answer is Beta-Cryptoxanthin.
Now, every pre-clinical and clinical researches support beta-Cryptoxanthin's miracle functions.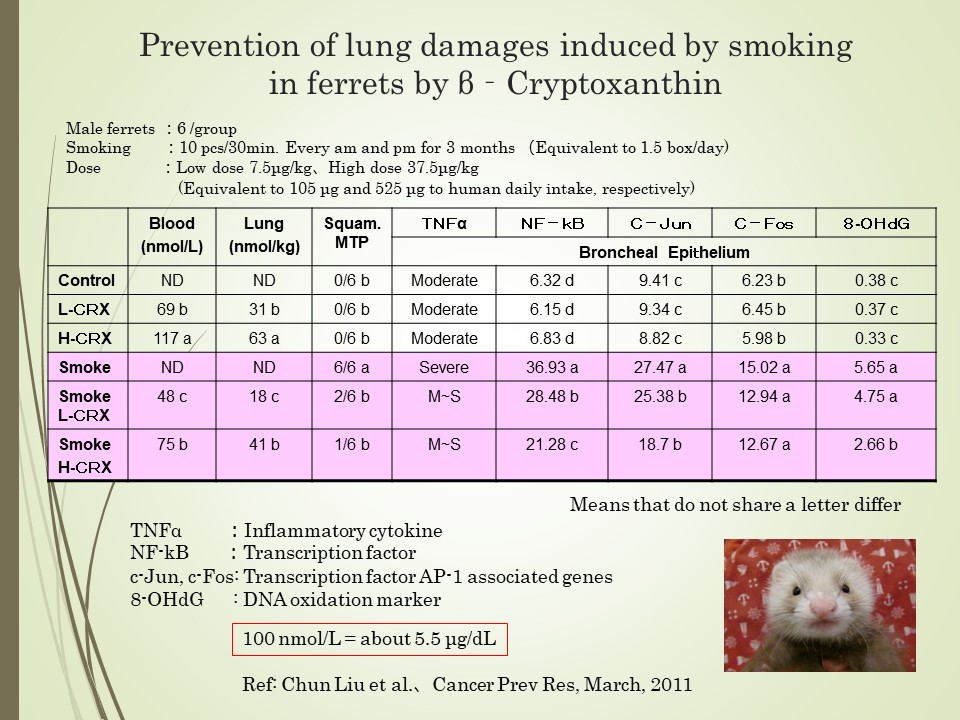 Tuft University group in US clearly demonstrated from Ferret smoking experiment that beta-Cryptoxanthin is important and preventive and promising chemical agent in lung cancer caused by smoking.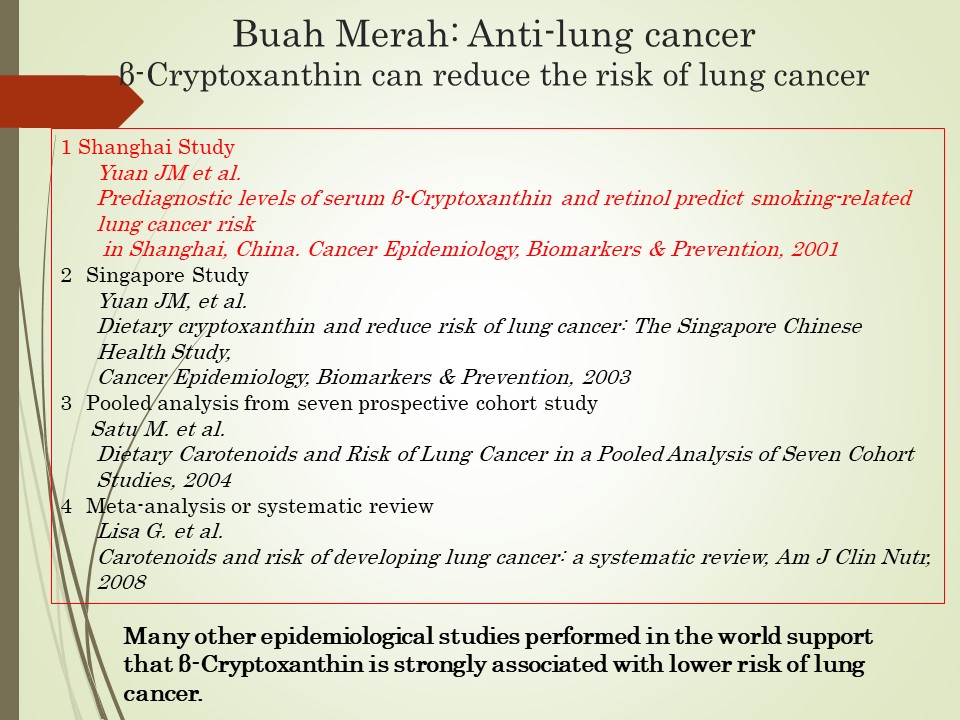 In 21 Century, many epidemiological studies regarding significant role of beta-Cryptoxanthin have been reported.
The most impressive and drastic study was Shanghai study with smokers and non-smokers.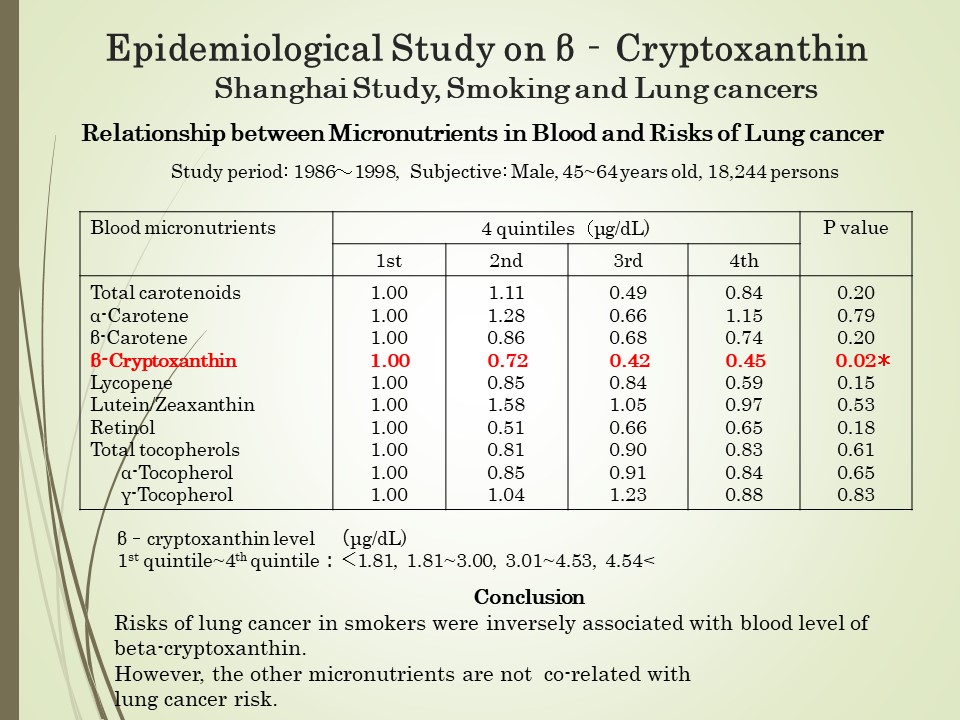 This slide shows the results of Shanghai Study.
As micronutrients, total carotenoids, alfa-carotene, beta-carotene, beta-cryptoxanthin, lycopene, lutein/zeaxanthin, retinol and tocopherols in blood were determined prior to enrolment of this Cohort study.The results demonstrated that only beta-cryptoxanthin was statistically significant in lowering risk of lung cancers.
The other micronutrients are not associated with risk of lung cancer.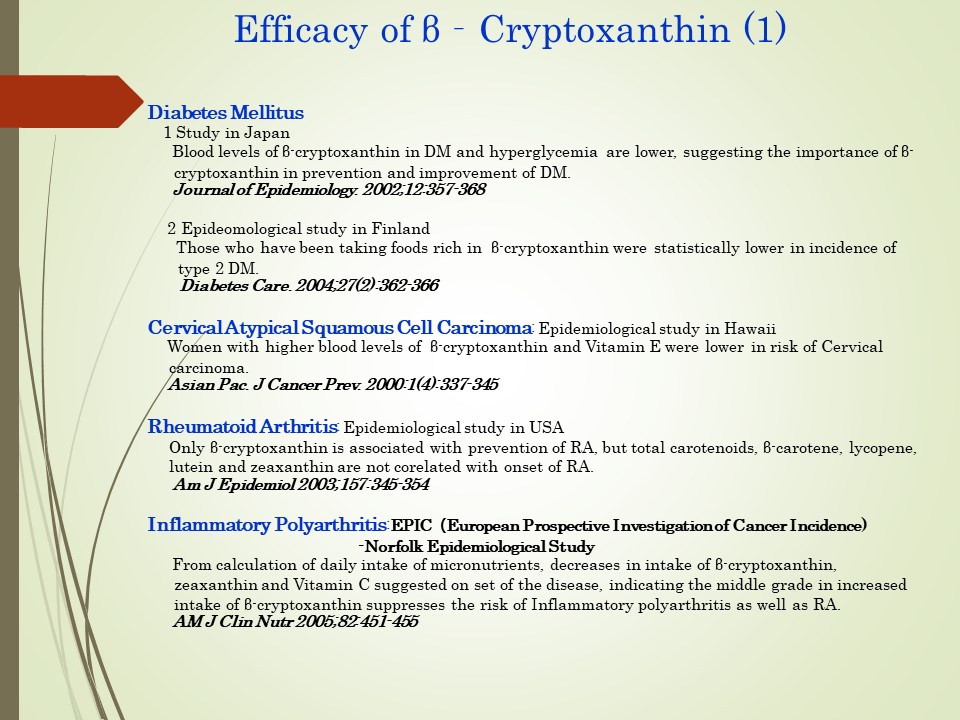 In addition to anti-lung cancer, beta-cryptoxanthin has many other health benefits.
They include:
Diabetes mellitus,
Cervical Atypical Squamous Cell Carcinoma
  No toxic immunization is necessary as long as the women take Buah Merah.
Rheumatoid Arthritis
Inflammatory Polyarthritis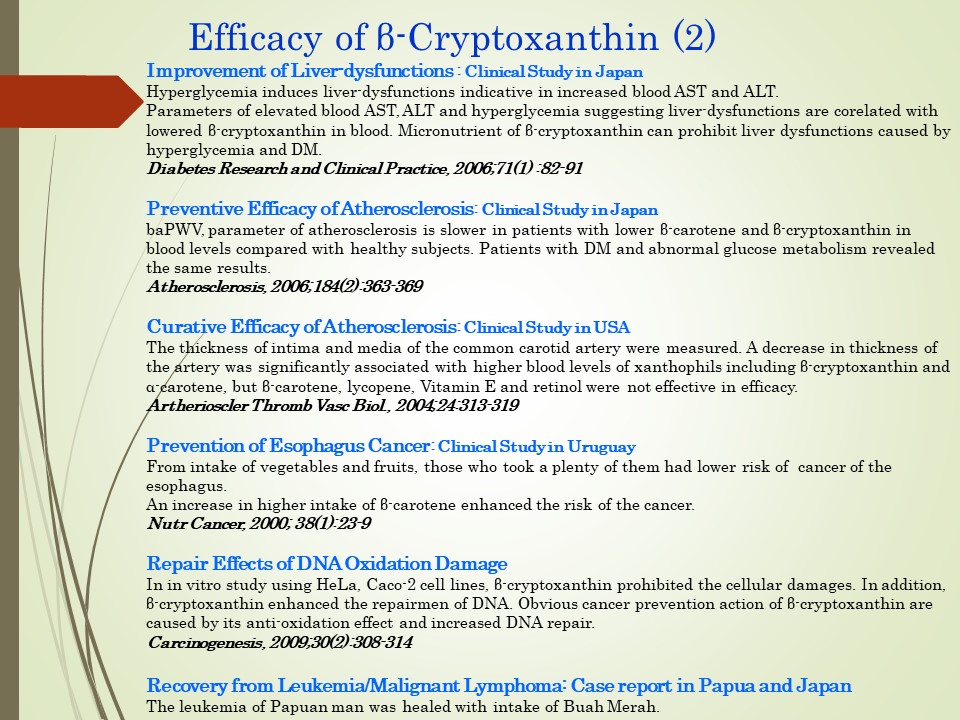 Liver dysfunction
Atherosclerosis
Esophagus cancer
DNA oxidation
Leukemia or Malignant lymphoma
Recently, I experienced two cases of malignant lymphoma in Japan.
In both cases, miracle of Bah Merah happened. Their tumors became smaller or disappear.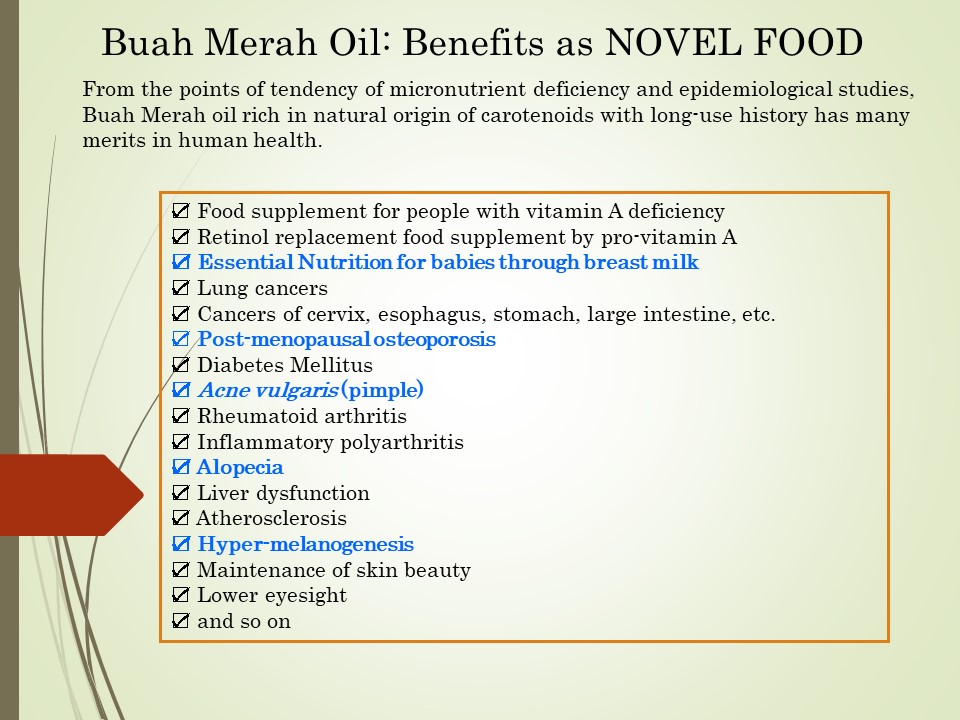 From our 13 years R/D, I can show you more benefits of Buah Merah.
In any case, I believe that beta-cryptoxanthin plays an important role.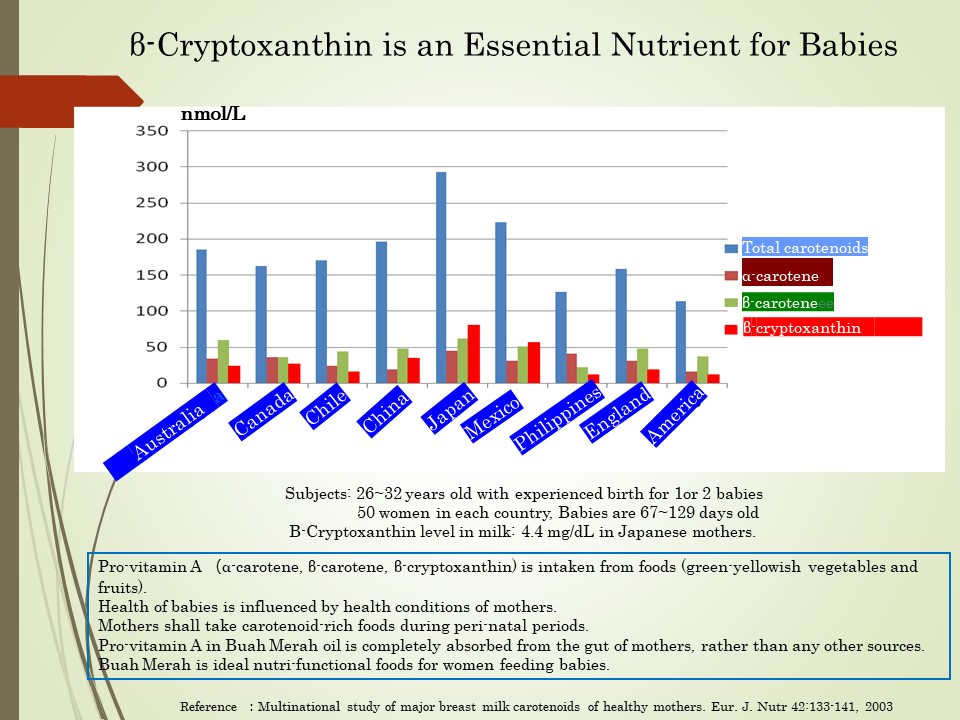 This is not our data, but multinational study in 9 countries.
Breast milks obtained from breast milk feeding mothers were analyzed for major carotenoids, alfa-carotene, beta-carotene and beta-cryptoxanthin.
These carotenoids are essential for babies in healthy growth.
Japanese mothers' milk is the best.
Philippine women's milk is worst.
I do not know why, in spite of available various tropical fruits.
There are no data in Indonesians.
I hope Indonesian researchers shall measure carotenoids in breast milk of mothers in Papua and the other provinces, and then milk carotenoid levels must be compared.
I expect Papuan mothers have highest level of carotenoid in their breast milk because of Buah Merah.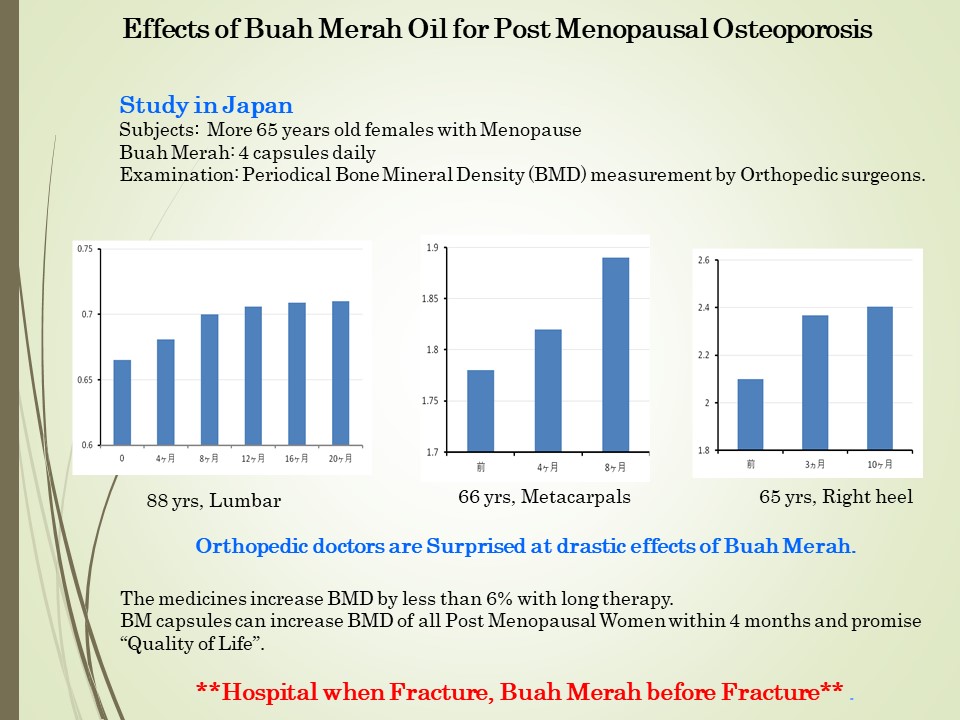 We have been confirming the effect of Buah Merah Oil against Post-menopausal osteoporosis in Japan.
I show three cases.
Buah Merah oil is found to increase in Bone Mineral Density in all the women at 3~4 months after daily Buah Merah administration.
Oesteoporosis is one of main causes of bone fracture, resulting in worsening Quality of Life.
My Catch word for Buah Merah is
"Hospital when Fracture, Buah Merah before Fracture"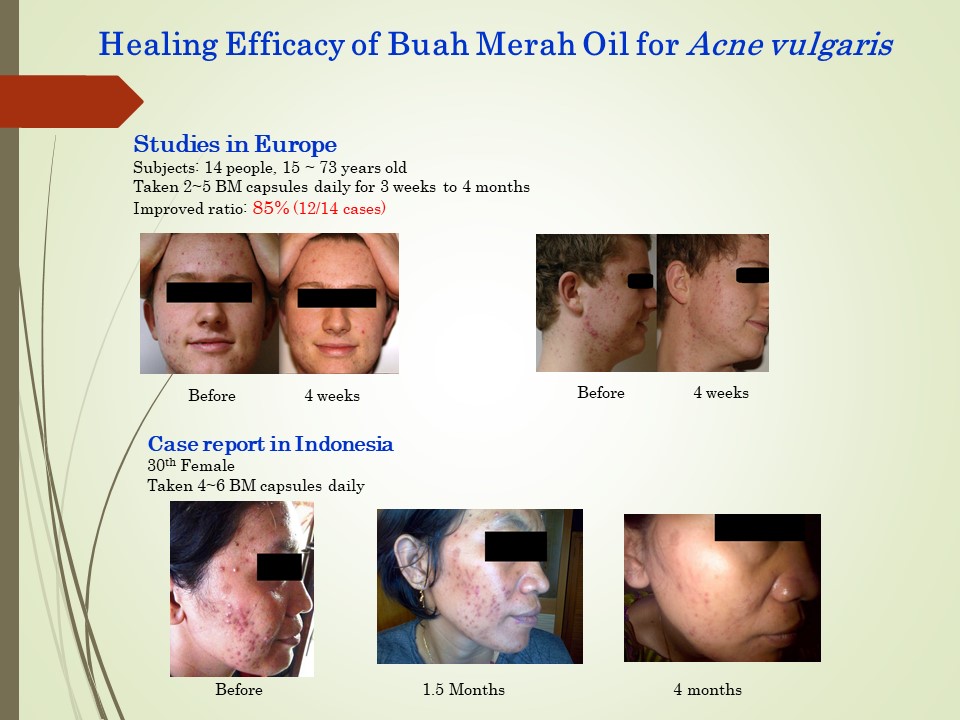 Acne vulgaris is social issue not only in young generation but aged persons.
We have been conducting preliminary clinical study in Japan, Indonesia and EU.
In EU study, improved ratio reached to 85%.
Indonesian woman with serious Acne conditions with face, chest and back was drastically improved 4 months after daily intake of Buah Merah.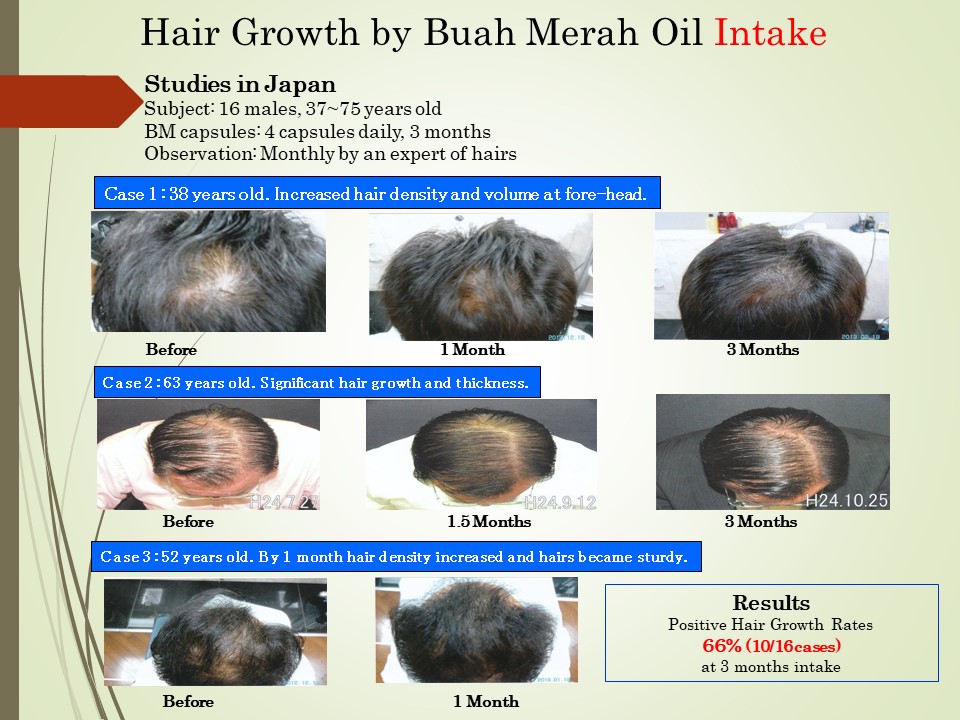 From the positive evidence in Acne vulgaris, I thought Buah Merah helps to  improve hair loss or alopecia by oral administration.
Our clinical study using 16 Japanese males showed positive efficacy in hair growth by Buah Merah ingestion.
You can see typical cases in hair growth.
Positive hair growth ratio was 66% in 3 months limited periods.
If they take Buah Merah for more longer, hair growth ratio might be higher.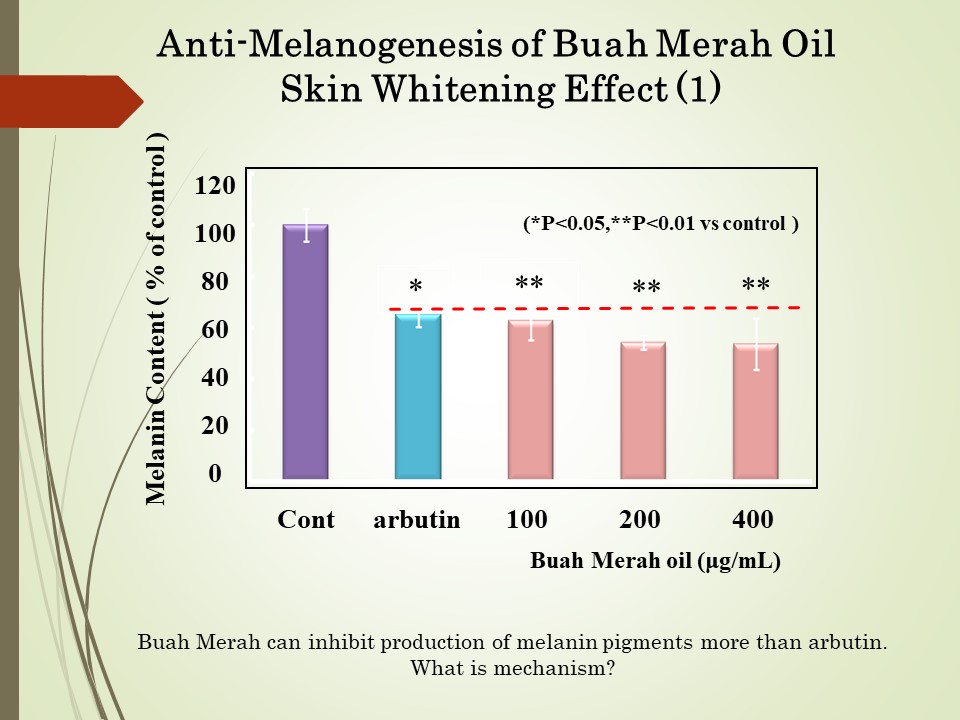 Skin beauty is one of most concerns in women.
We have been doing collaboration study with MukogawaWomen's University in Japan.
Using Melanoma B16 cell lines, whitening effects of Buah Merah oil were conducted in in vitro study.
Buah Merah oil demonstrates a decrease in melanin pigment production.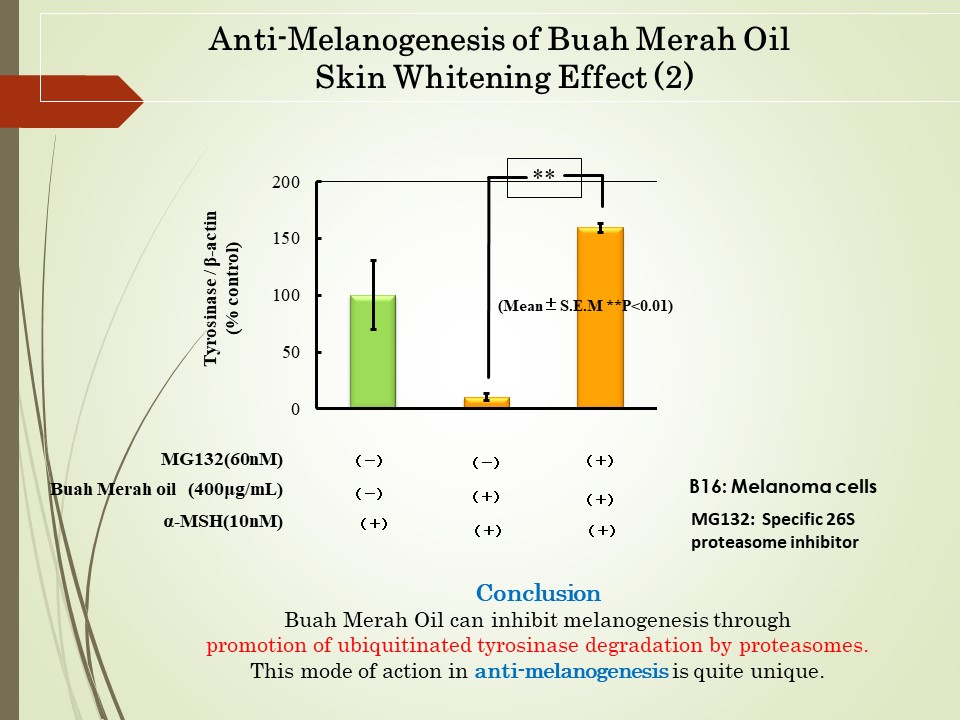 Tyrosinase is a limiting and key enzyme in melanogenesis.
From our 7 years study, we conclude that Buah Merah oil can inhibit melanogenesis through promotion of ubiquitinated tyrosinase degradation by cellular micro-organella names "proteasomes".
This is very unique mechanism in anti-melanogenesis.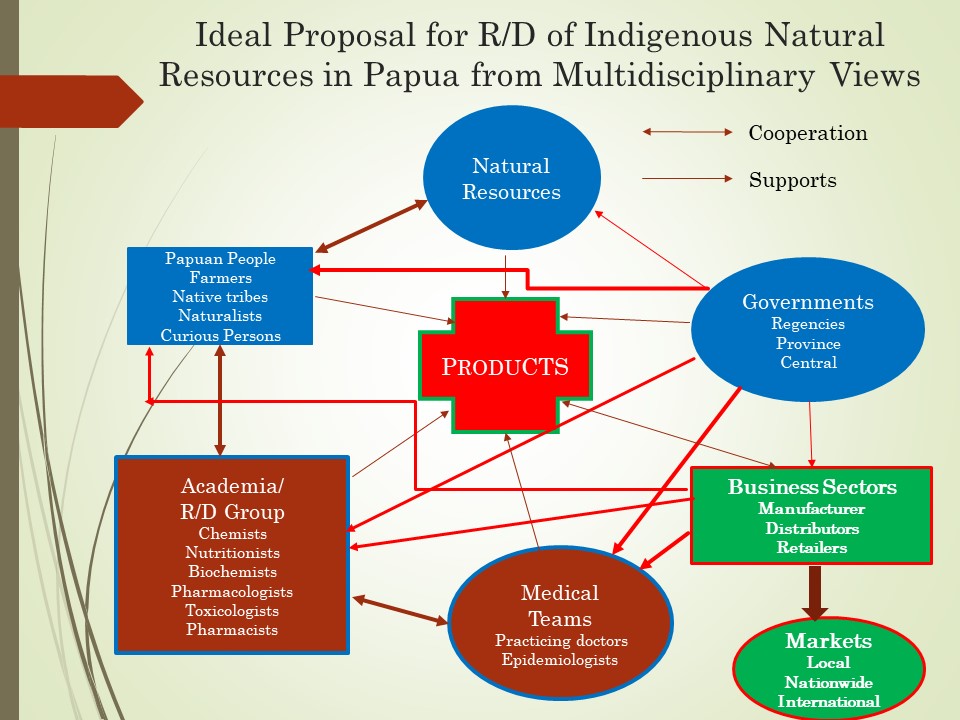 Today, in front of reputable researchers, law makers, any other parties concerning development of Papua and welfare of Papuan people,
I would like to advise how to approach in development in fields of Agriculture, Aquaculture or Health foods, from my Buah Merah and Mengkudu experiences,

The R/D must be multidisciplinary.
This means many parties will be involved from concerning point of their expertise.
The matrix in R/D will become complicated as shown in the slide.
We need a key person who well coordinates the project.
This key person can come out from any party
Of importance is mutual collaborations.
Under well coordination of the key person, each sector must go forward to the target with mutual understanding and co-working.
Do not miss End-point or Finished product.
Consider the benefits and welfare of involved parties.
Governments must help each sector financially and with best coordination.
By multidisciplinary works, complicated matrix of strings will be easily combed.

I spent 13 years for Buah Merah development. It is still underway.  
If there were multidisciplinary networks, my work might finish by one half of period.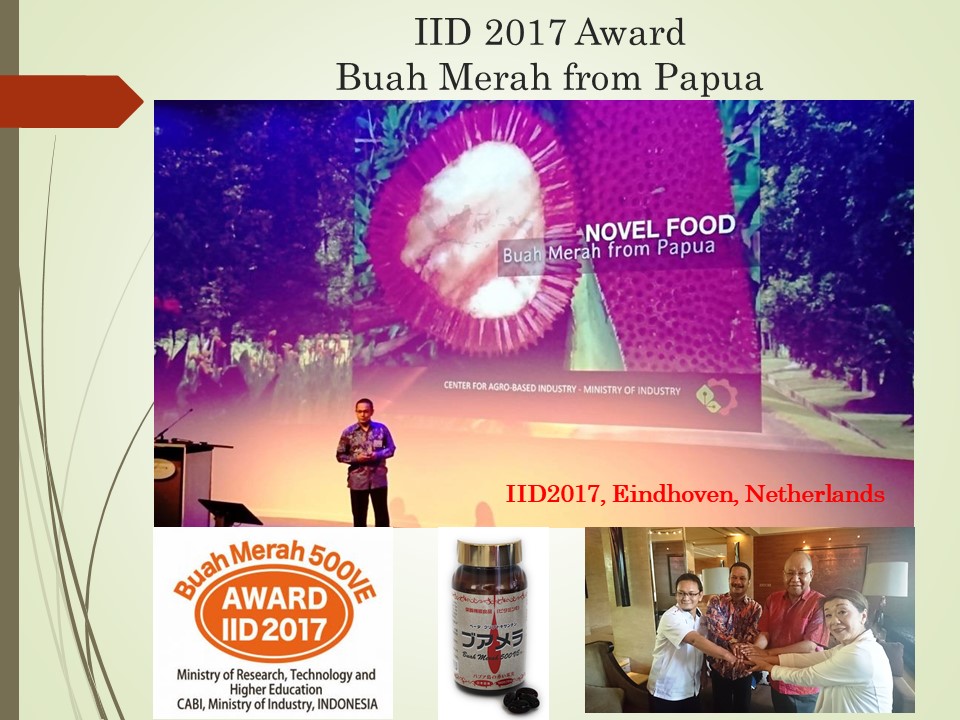 Anyhow, we developed Buah Merah product, named Buah Merah 500VE.
This product was awarded as Innovational Functional Health Food in Indonesia Innovation Day 2017 program held in the Netherlands in 2017.
We are now focusing on registration of Buah Merah 500VE to EU in cooperation with Indonesia Government, Indonesia Local company and EU medical industry.
We really hope that we will be able to highly contribute to Papua through Buah Merah development.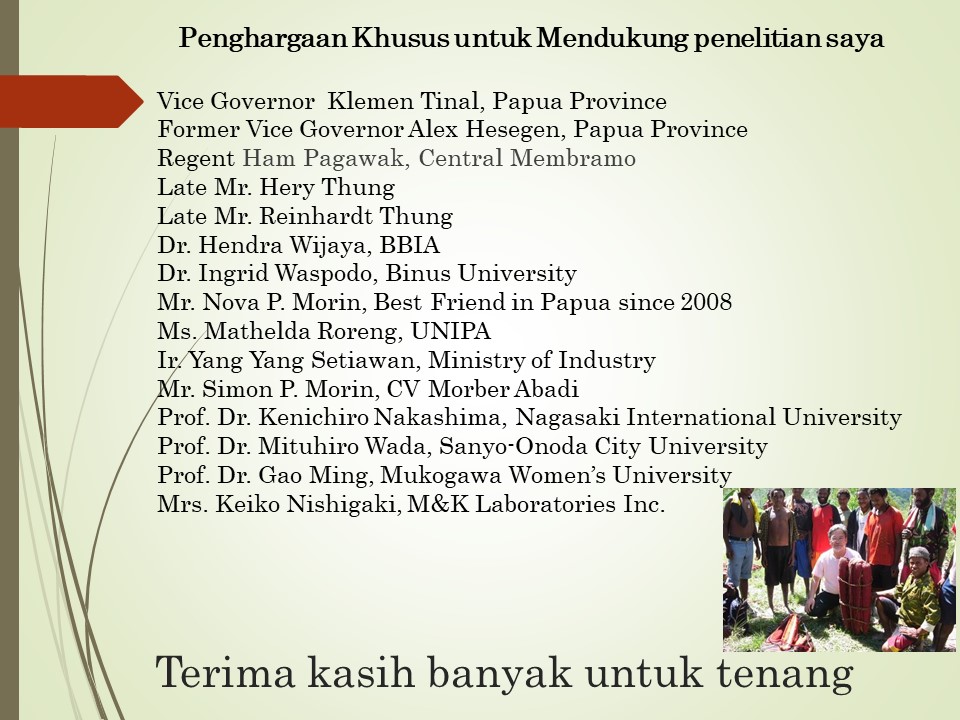 Finally, I would like to express my special thanks to the persons shown in this slide.
I owed a lot from them.
Without their help and support, I may not be here today.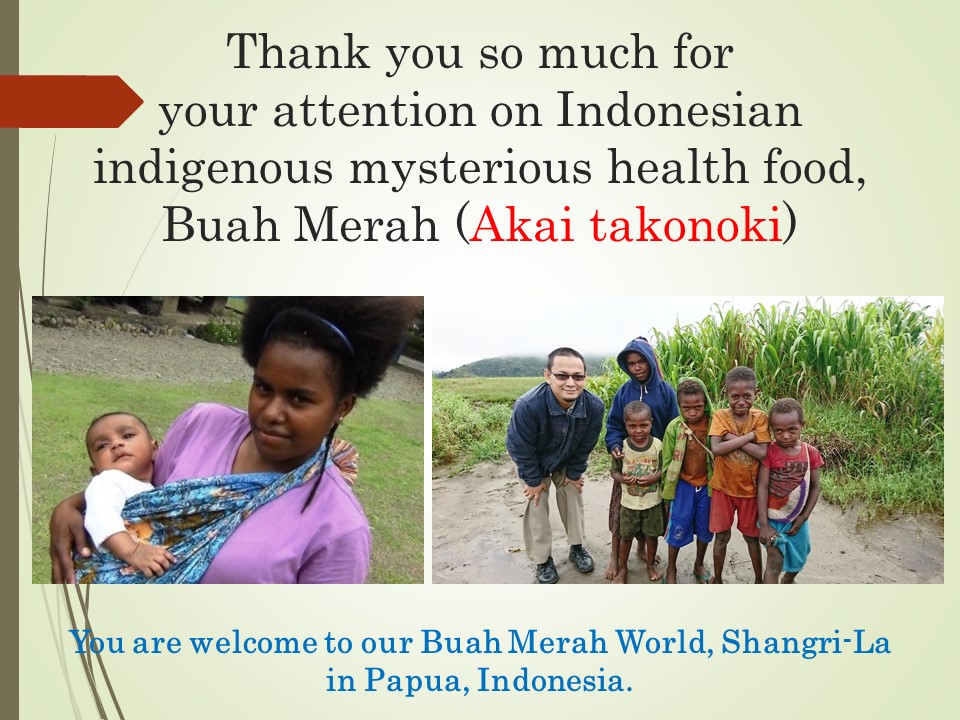 Terima kasih banyak untuk tenang.

Please feel free to contact me if you have any question:

Toshiaki Nishigaki, Ph.D.
Email to
   mk-info@thisismk.co.jp 
   thisismk2@gmail.com
WhatsApp
  +819027238626